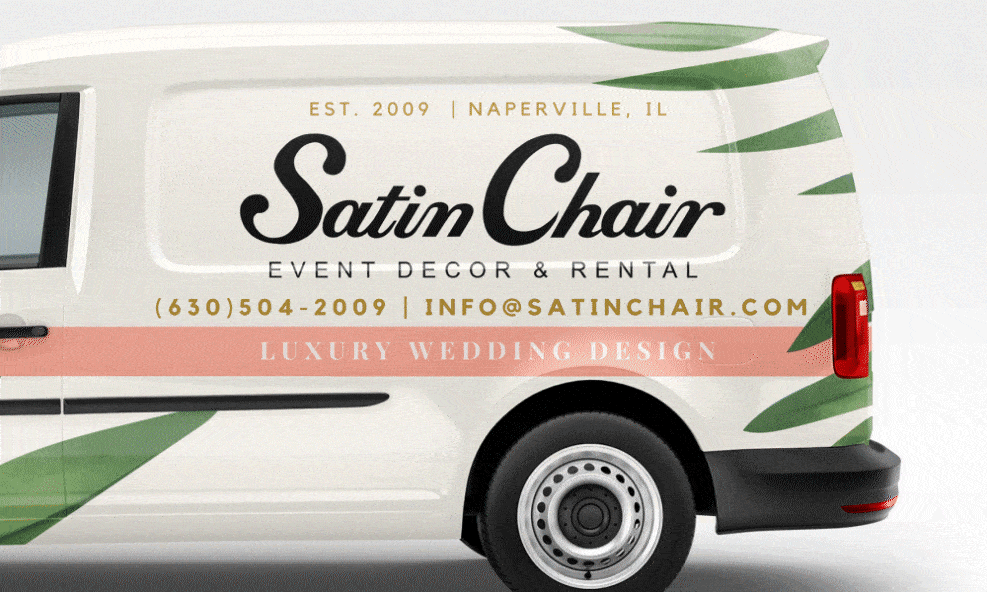 Satin Chair is a decor and rental company for weddings, parties, and special events.

The current Satin Chair branding feels dark and heavy, but it should reflect the existing décor and image they want to portray for their customers. 
This rebrand aims to make Satin Chair look more elegant and high-end. By using a simple pastel palette of blush pink, pale green, and gold, the colors reflect the décor they provide. Their new look has a unified aesthetic for all brand materials.
For the installation of their decor, tables, and chairs at a venue, the Satin Chair crew loads the equipment in a van. Decals on a company vehicle improve a brand's visibility and advertise its services. A professional vehicle wrap lets you saturate a geographic area with your logo, building brand recognition and awareness. 
These brochures are used for expos and given to clients who visit the Satin Chair showroom in Naperville, Illinois. I used white, cream, pink, and pale blue in the brochure design, which are the most requested decoration colors for Satin Chair.
Satin Chair's updated corporate image and messaging improved business by standing out against competitors, attracting new clients, and closing sales more efficiently. The new branding reflects what Satin Chair has to offer.